De tramadol-voorgeschreven pijnstiller die honderdduizenden mensen dagelijks innemen, doodt meer mensen dan welk ander medicijn dan ook, inclusief heroïne en cocaïne.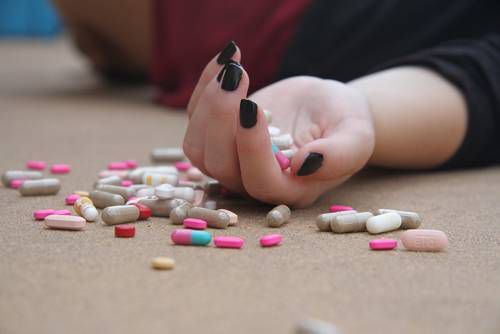 Het analgeticum veroorzaakt geen schade als het op de juiste manier wordt ingenomen, maar het wordt zeer gevaarlijk wanneer het wordt gemengd met andere drugs of alcohol. Vorig jaar waren er in Noord-Ierland 33 sterfgevallen gerelateerd aan alleen tramadol. Onder de doden was een 16-jarig meisje en een 70-jarige gepensioneerde. Het opioïd-gebaseerde medicijn wordt gebruikt om matige of ernstige pijn te behandelen en dient alleen met een recept te worden ingenomen. In 2014 werd het geclassificeerd als een illegale "C" -klasse opioïde drug die niet zonder recept verkrijgbaar was.
Het probleem is dat veel mensen al verslaafd zijn aan Tramadol en hun toevlucht nemen tot de zwarte markt omdat ze niet meer recepten kunnen krijgen omdat ze hun behandeling hebben beëindigd of omdat hun arts een ander medicijn heeft voorgeschreven.
"Omdat het een medicijn is dat zo vaak wordt gebruikt en dus wordt voorgeschreven, denk ik niet dat mensen het potentiële risico beseffen dat zij hebben wanneer zij Tramadol zonder medisch toezicht gebruiken", legt professor Jack Crane, een patholoog uit de staat Noord-Ierland, uit.
Crane vereist dat de classificatie van Tramadol opnieuw wordt bijgewerkt om te worden geüpgraded naar klasse "A".
Pijnmanagement: tolerantie en verslaving
Sommige medicijnen die worden gebruikt om pijn te behandelen kunnen verslavend zijn. Verslaving is anders dan fysieke afhankelijkheid of tolerantie. In gevallen van fysieke afhankelijkheid treden ontwenningsverschijnselen op wanneer een stof plotseling wordt gesuspendeerd. Tolerantie treedt op wanneer de aanvangsdosis van een stof na verloop van tijd zijn effectiviteit verliest. Verslaving is een psychologische en gedragsmatige reactie die sommige mensen ontwikkelen met het gebruik van narcotische pijnstillers.
Mensen die langdurig lang opioïde medicijnen gebruiken, kunnen tolerantie en fysieke afhankelijkheid ontwikkelen, hoewel dit niet betekent dat ze verslaafd zijn. Over het algemeen treedt verslaving alleen op bij een klein percentage van de mensen wanneer narcotica worden gebruikt met de juiste medische supervisie.
Opioïde analgetica met effecten vergelijkbaar met die van opium of morfine, kunnen zeer verslavend zijn en werken door zich te hechten aan receptoren in de hersenen, wat het gevoel van pijn blokkeert.
Ze mogen niet langer dan 3 of 4 maanden worden gebruikt, tenzij dit gebeurt onder rechtstreeks toezicht van uw arts.
Sommige namen van opiaatmedicijnen:
Codeine.
Fentanyl.
Hydrocodone.
Hydromorfon.
Meperidina.
Morfine.
Oxicodona.
Tramadol.
Abonneer, reageer en deel. Dank je wel!